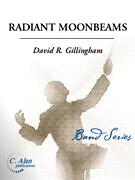 小河淌水/Radiant Moonbeams
演  奏:
作曲编曲:暂无
演奏指挥:暂无
乐谱风格:中国音乐
音乐形式:交响管乐
演奏乐器:暂无
出版公司:C. Alan
难易等级:3
库存情况:请客服微信号:13910324401,或电话010-85863306
专辑介绍
Radiant Moonbeams was commissioned by Durham Middle School Bands, Lewisville, Texas, in memory of Christy Hoong, a friend and flute player in the band. Considering Christy's Chinese heritage, I chose an old Chinese folk song, Shao Hua Tang Shue ("Gently Flowing Stream") to be used as the basis for the melodic material in the work.
I was struck by this love song's simple pentatonic bea...
查看全文
单曲列表